Having had a busy day in work preparing a database with all village halls matched to its respective parish council I was able to clock off at 5pm on the dot after having entered 200 of about 450 of the little blighters. I tell you working in Administration the fun never stops!!! I had my tunes blasting, foot tapping and tea poring all in all a good productive day in the home office.
My favourite tune that came up on my spotify account is definitely the one below, so funky.
So a little more foot tapping and slight rocking forward and backward still loving this tune. This band have played in Exeter a couple of times at the Phoenix I am sure they are amazing not seen them myself, saying that I should definitely get out more. Well get out more when this lock down is over anyway.
The second tune by them is just as cool, dance to the beat the beat the beat. It's mystical and spooky very cool.
So back to what I was originally going to blog about tonight.
I saw the following article in the Guardian about a breading programme for Storks who have not been breading in the wild for centuries or since 1416 to be precise so a really positive UK wildlife story about action, conservation and hope.
First wild stork chicks to hatch in UK in centuries poised to emerge
More than 100 birds have been living wild in England as part of conservation scheme
Patrick Barkham @patrick_barkham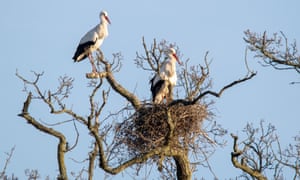 Storks on the Knepp Castle estate. The area is a hot spot for endangered species. Photograph: RA Chalmers Photography/Alamy
The first wild stork chicks to hatch in Britain for centuries are expected to emerge next month after three pairs of the huge white birds built nests in West Sussex.
Disdaining platforms constructed especially for them, the storks have created their stick nests in the heights of oak trees on the Knepp estate, the centre for a reintroduction project.
White storks are traditionally thought to bring fertility and good luck but have been extinct as breeding birds in Britain since 1416, or possibly during the English civil war.
More than 100 birds have been bred in captivity and released at three locations in West Sussex and Surrey, including Knepp, a 3,500-acre former dairy farm that was rewilded at the turn of the century.
How darn exciting
On another bit of good news my membership card for Moor Trees turned up I have rejoined them. I used to be a member when I was on the board of Directors with them and pleased to be supporting them again now membership card is made out of some lovely card.
If you got this far thank you so much for reading.
Cheers
Huw