Calls for inquiry as UK reports highest Covid-19 death toll in Europe
Government's handling of pandemic under scrutiny as UK becomes worst-hit European country
Coronavirus – latest UK updates
See all our coronavirus coverage
Denis Campbell , Frances Perraudin, Nicola Davis, and Matthew Weaver
Tue 5 May 2020 20.50 BST First published on Tue 5 May 2020 10.49 BST
Shares 25,363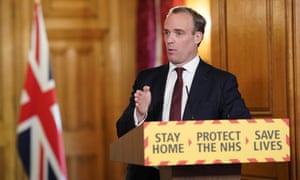 Dominic Raab announced that the number of people killed by the coronavirus in the UK stands at 32,313 on Tuesday, the second highest death toll in the world. Photograph: Pippa Fowles/10 Downing Street/AFP via Getty Images
Britain has the worst coronavirus death toll in Europe, official figures showed on Tuesday, prompting calls for an inquiry into the handling of the pandemic.
The government's tally of fatalities across the UK reached 29,427 for those who tested positive for coronavirus, exceeding the 29,029 recorded in Italy – until now Europe's worst-hit country. Italy's total does not include suspected cases.
If this virus is not a serious enough issue that needs honesty and transparency in the eyes of Boris Johnson than quite frankly nothing is, only with the light of the truth may we see and learn from what was done.
This not some shoddy back room deal lives have been put on the line and deaths have been generated as a result of decisions made.