So have had a busy morning our Corin-19 communciations are picking up apace and we are gettting quite alot of useful details to send to Devon Communities I will send another sample email later today as I think the info we are sharing is both interesting and relavant to others. Below is an article from my paper I bought this morning.
Covid lockdown opening up world for people with disabilities
Many people able to take part in work, culture, or socialising from their own home for first time
Mon 20 Apr 2020 11.27 BST Last modified on Tue 21 Apr 2020 08.39 BST
Shares 756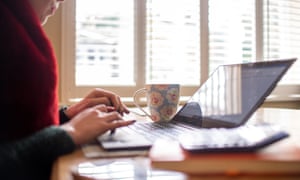 A woman using a laptop on a dining room table. Photograph: Joe Giddens/PA
While the coronavirus pandemic has led to unprecedented restrictions for billions of people, for many with disabilities, the lockdown has paradoxically opened up the world. As society embraces "virtual" living, disabled people – who for years have missed out due to poor access – are suddenly finding themselves able to take part in work, culture, or socialising from their own home.
Nicola Welsh, 43, has always loved going to museums but a painful nerve condition means she's been housebound for 17 years. As cultural institutions including the National Theatre and the Royal Opera House go online, she's been able to tour the world visiting museums.
"I 'went' to the Watts Gallery [in Surrey] and then the Louvre. The Rijks [museum in Amsterdam] had a walkthrough on their Instagram account," she said. The experience has been profoundly moving. "Having the opportunity to visit virtually has given me back something that I'd resigned myself to not being able to do within my limitations. I hadn't realised how much I had missed it."
Share your story
Share your stories
If you have been affected or have any information, we'd like to hear from you. You can get in touch by filling in the form below, anonymously if you wish or contact us via WhatsApp by clicking here or adding the contact +44(0)7867825056. Only the Guardian can see your contributions and one of our journalists may contact you to discuss further.
I thought I could play another Finlay Quay tune